Integrated Security systems throughout the uk
Perimeter Security from RHI Industrials Ltd. Protecting your Property, Equipment and High Security Assets.
OPERATING THROUGHOUT THE UK AND INTO EUROPE, YOUR SECURITY IS OUR PRIORITY
We are committed to providing the highest standards of work, from concept through to completion. At RHI Industrials Ltd we are trusted to deliver complex Installation and Service and Maintenance of Perimeter Security Systems for the Utility, Military, Manufacturing and Wider Sectors.
To Find Out More, Contact Us
GALLAGHER SECURITY
Gallagher is the number one manufacturer of Perimeter Intrusion Detection Systems, especially in the utilities marketplace. Our relationship with Gallagher is second to none; we work closely with the team to ensure the final installation of Gallagher products are to the highest standards and exceed everyone's expectations.
ELECTRONIC SECURITY
RHI Industrials Ltd are the ideal partner for the most complex and sophisticated Electronic Security implementations for large and small businesses. Our Security Solutions can secure entire enterprises and critical infrastructure. Every Electronic Security installation is customised to the Client's unique requirements and standardised to meet local and global needs.
ENTRANCE CONTROL SYSTEMS
For fully robust security protocols, intelligent Access Control and Entrance Control Solutions speak to RHI Industrials Ltd. Our team of experts are here to help you every step of the way. Our Entrance Control Systems open to allow users to cross a threshold, or remain closed to bar entry and potentially raise an alarm.
EARTHING SYSTEMS
The design and effective performance of Earthing Systems can have a major impact on potential safety, security of electricity supplies, power quality and construction costs. Our professionally qualified Electrical Engineers are extensively experienced and can deliver cost effective, high performance and safe Earthing solutions taking into account the latest industry standards and available software tools.
FABRICATION & WELDING
RHI Industrial Ltd provide Fabrication & Welding Services. Priding ourselves on our high quality services we can offer Mig Welding, Tig Welding and Site Welding, Steel Fabrication, Aluminium Fabrication and Stainless Steel Fabrication. Using the best equipment available we can produce you order with minimal fuss. Where necessary, we will work with you to adjust your designs so they accomplish your manufacturing goals.
CIVIL ENGINEERING & GROUNDWORK
RHI Industrials Ltd have provided Civil Engineering & Groundwork Services for a vast range of Clients across the United Kingdom. We provide a full range of Civil Engineering & Groundwork Services including Concrete Pad, Foundations, Developments, Road Ways, Minor Works and Surfacing.
HOSTILE VEHICLE MITIGATION
RHI Industrials Ltd are highly experienced in Hostile Vehicle Mitigation. HVM is a protective security discipline focussing on reducing risks associated with vehicle borne threats posed by both Terrorists and Criminals. The basis of HVM are Security Risk Assessments, Security Planning, Design and the deployment of Risk-Based Measures.
DESIGN & INNOVATION
The team at RHI Industrials Ltd are highly experienced in working with industrial concepts, from design and development, through to testing and final manufacture. Our holistic and integrated process allows us to support clients at every stage in the product development cycle collaborating together to explore different ideas which are presented through creative sketches, renderings and outline CAD models.
TRAINING & RECRUITMENT
Develop your skills, business knowledge and continue to grow your career with RHI Industrials Ltd. You will have the chance to get hands-on experience, interacting with Clients and making a difference early on. We will support your ongoing development as well as provide industry recognised qualifications.
Mitie Security & Fire
Mitie Fire & Security are the largest intelligence-led security company in the UK, offering integrated, risk-based security solutions to fit your needs, such as; lone worker protection, guarding, fire and security systems, mobile security and more. Our use of intelligence and technology ensures effective and efficient use of your resources, delivering the best results for your security solution.
Providing only the highest standards of work our highly qualified Perimeter Security Engineers are located throughout the UK and are available to offer Service & Maintenance and Technical Support.
TECHNICAL SUPPORT
At RHI Industrials Ltd we can offer a wide range of technical support functions to support your Perimeter Security System.
SERVICE & MAINTENANCE
We have strategic and tactical capability, enabling a planned or reactive response to serve your Service and Maintenance.
Our mission at RHI Industrials Ltd is to continue our evolution in providing confidence, innovation, and creativity to all of our clients. We strive to invest in our people, ensuring that they realise their true potential, while identifying and harnessing talent. We also aim to ensure continual service improvement, and cutting-edge innovation, to further enhance our presence at the forefront of the Security and Earthing Markets.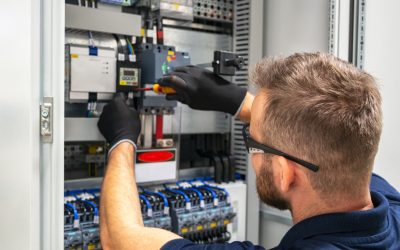 Are you an experienced Engineer, with an established background in Automated Physical Security (Gate and Barrier)? We have a current nationwide vacancy in our leadership team to support a wide range of ongoing Integrated Security System projects within the Energy and...
read more
Keeping you up to date with our latest developments. See more details
here
.
"THE PROFESSIONALISM THAT YOUR INSTALLATION AND DESIGN TEAMS, ALSO YOUR SITE MANAGER, HAVE SHOWN HAS BEEN INCREDIBLE. OUR SENIOR MANAGEMENT TEAM HAVE COMMENTED ON HOW CLEAN AND PROFESSIONALLY MANAGED THE WORK AREAS HAVE BEEN."